SECTIONS | Welcome to the Dancetech-Thomann store.
Synth/sampler/drumbox, sample-CD's, synth s/w
Midiware, sequencers, home keyboards
Rack effects, pre-amps & processors
Monitors, studio mixers/recorders, h'phones, tape
Dj-kit, Pa-gear, small mixers, speakers & amps
Microphones & accessories
Pc/Mac audio/midi h/w & s/w, storage media
Expansion boards, accessories etc
Piano's & organs
Cases & racks & accessories
Mega-Deals...
Top Sellers...
Blowouts...
New Products...
Similar Products...
K&M 26740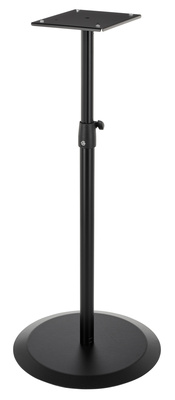 K&M 26740 MONITOR STAND, Stable steel stand for monitors with broad completely level round cast-iron base-diameter 450 mm, for the direct attachment of monitors with 3/8" threaded joint (thread length 12 mm) or to screw in a connector plate 205 x 245 mm, Includes 4 thread points and 4 rubber knobs. Load capacity: 35 kg. Wt: 10.6 kg, H: 950/1430 mm.
Delivery prices