SECTIONS | Welcome to the Dancetech-Thomann store.
Synth/sampler/drumbox, sample-CD's, synth s/w
Midiware, sequencers, home keyboards
Rack effects, pre-amps & processors
Monitors, studio mixers/recorders, h'phones, tape
Dj-kit, Pa-gear, small mixers, speakers & amps
Microphones & accessories
Pc/Mac audio/midi h/w & s/w, storage media
Expansion boards, accessories etc
Piano's & organs
Cases & racks & accessories
Mega-Deals...
Top Sellers...
New Products...
Similar Products...
Hohner Golden Melody A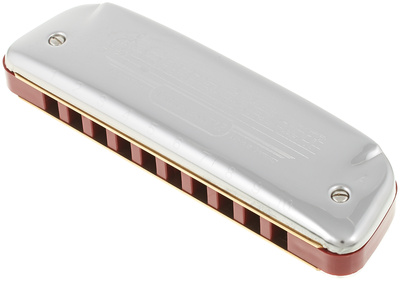 Hohner Golden Melody Harmonica - A major tuning, 20 reeds, 0.9mm brass reed plates, red plastic comb, attractively styled model, fifties look, with full length covers, closed at the sides. The Golden Melody is the only Hohner Richter harp featuring equal tempered tuning (12TET) which makes it especially suitable for jazz and melodic playing.
Delivery prices