SECTIONS | Welcome to the Dancetech-Thomann store.
Synth/sampler/drumbox, sample-CD's, synth s/w
Midiware, sequencers, home keyboards
Rack effects, pre-amps & processors
Monitors, studio mixers/recorders, h'phones, tape
Dj-kit, Pa-gear, small mixers, speakers & amps
Microphones & accessories
Pc/Mac audio/midi h/w & s/w, storage media
Expansion boards, accessories etc
Piano's & organs
Cases & racks & accessories
Top Sellers...
New Products...
Similar Products...
Mollenhauer New Student 1042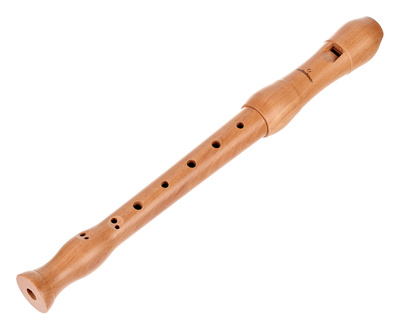 Mollenhauer 1042 "New Student" Soprano (Descant) C Recorder - natural pearwood, baroque fingering, double hole. The delicate soft sound is never obtrusive and remains even throughout all registers. The stable response from low to high notes helps ease some of the beginnerĂs insecurities. We pay careful attention to tuning to ensure a sound foundation for in-tune ensemble playing - the little finger bulge is particularly suitable for small fingers. The recorder bag. A hanging loop: the recorder can always be kept in a safe place. Space for a name label: to prevent mix-ups. As colourful as the rainbow: every bag has its own individual colour scheme. Includes cotton bag, cleaning rod, cork grease, fingering chart and maintenance instructions.
Delivery prices