SECTIONS | Welcome to the Dancetech-Thomann store.
Synth/sampler/drumbox, sample-CD's, synth s/w
Midiware, sequencers, home keyboards
Rack effects, pre-amps & processors
Monitors, studio mixers/recorders, h'phones, tape
Dj-kit, Pa-gear, small mixers, speakers & amps
Microphones & accessories
Pc/Mac audio/midi h/w & s/w, storage media
Expansion boards, accessories etc
Piano's & organs
Cases & racks & accessories
Top Sellers...
Similar Products...
Mayah Sporty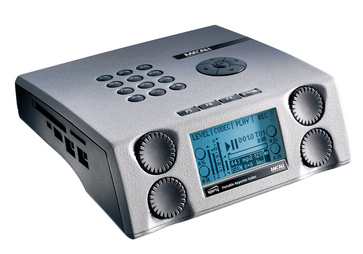 Mayah Sporty - portable reporter codec, MPEG-4 HE AACv2, MPEG-4 AAC ELD, USB, SD, PCMCIA, ISDN, Ethernet, save and transfer, compatible with Flashcast (G.711, G.722, L2, L3, etc), 2x mic in (phantom powered), line in, 2x headphone out/stereo line out. Includes PSU, loading unit, battery, 1GB SD Card and 2x balanced jack to XLR (female) adapter.
Delivery prices