SECTIONS | Welcome to the Dancetech-Thomann store.
Synth/sampler/drumbox, sample-CD's, synth s/w
Midiware, sequencers, home keyboards
Rack effects, pre-amps & processors
Monitors, studio mixers/recorders, h'phones, tape
Dj-kit, Pa-gear, small mixers, speakers & amps
Microphones & accessories
Pc/Mac audio/midi h/w & s/w, storage media
Expansion boards, accessories etc
Piano's & organs
Cases & racks & accessories
Mega-Deals...
Top Sellers...
Blowouts...
New Products...
Similar Products...
AKG C414 XLII Stereo Set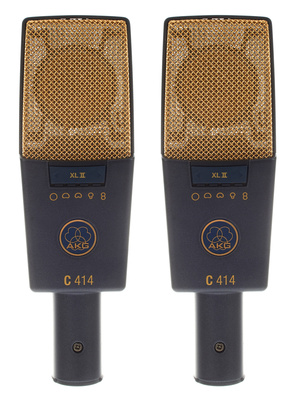 AKG C414 XLII Stereo Set- 2x matched large diaphragm condenser microphone with 9x polar patterns (cardioid, wide cardioid, eight, hyper-cardioid, omni and 4 mix pattern), 20Hz-20kHz, 6/12/18dB pad, 40/80/160Hz HP filter, 140dB maximum SPL, CK12 capsule, high boost above 4KHz, peak hold LED, transformerless FET XLR out, includes CK12 mic head, H85 holder, windscreen (W414X) and aluminium case.
Delivery prices