SECTIONS | Welcome to the Dancetech-Thomann store.
Synth/sampler/drumbox, sample-CD's, synth s/w
Midiware, sequencers, home keyboards
Rack effects, pre-amps & processors
Monitors, studio mixers/recorders, h'phones, tape
Dj-kit, Pa-gear, small mixers, speakers & amps
Microphones & accessories
Pc/Mac audio/midi h/w & s/w, storage media
Expansion boards, accessories etc
Piano's & organs
Cases & racks & accessories
Mega-Deals...
Top Sellers...
Blowouts...
New Products...
Similar Products...
American DJ Bubble Blast Junior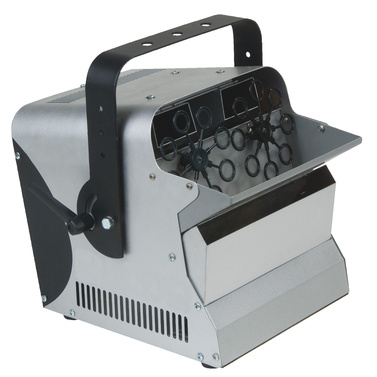 The American DJ Bubble Blast Junior - offers the latest in bubble machine technology with 4 separate fans that blow and lift bubbles high into the air all within a compact & portable design. This advanced fan system produces a massive amount of bubbles per minute and also allows for easy bubble liquid filling with a top-load filling & refilling. Super for stage productions, nightclubs and mobile applications. Massive dual fan output technology produces 100s of bubbles per minute, secondary dual fan lift system forces bubbles to rise high into the air, easy top-load bubble liquid filling container, uses most types of water-based bubble liquid, on/off switch on rear of unit, compact & portable design for easy transport, includes hanging bracket. Output: 12ml/min. Tank capacity: 0.6L. Fluid consumption rate: 80min/Litre (100% output). Dimensions: 290 x 290 x 240mm (L x W x H). Weight: 5.9kg. American DJ Bubble Juice Concentrate available (5L, order code: 246493).
Delivery prices