SECTIONS | Welcome to the Dancetech-Thomann store.
Synth/sampler/drumbox, sample-CD's, synth s/w
Midiware, sequencers, home keyboards
Rack effects, pre-amps & processors
Monitors, studio mixers/recorders, h'phones, tape
Dj-kit, Pa-gear, small mixers, speakers & amps
Microphones & accessories
Pc/Mac audio/midi h/w & s/w, storage media
Expansion boards, accessories etc
Piano's & organs
Cases & racks & accessories
Mega-Deals...
Top Sellers...
Blowouts...
New Products...
Similar Products...
beyerdynamic DT-290/M200/H80 MkII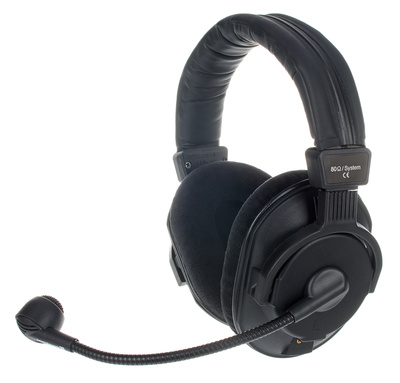 beyerdynamic DT-290/M200/H80 MkII Headset Combination - headphones: dynamic, closed back, circumaural, 80ohm nominal impedance, 1006dB nominal SPL, 10Hz-30kHz frequency response. Microphone: dynamic, hyper-cardioid polar pattern, 40Hz-12kHz frequency response, 200ohm nominal impedance. Colour: Black. Weight: 240g (without cable). Cable not included (please order separately).
Delivery prices