SECTIONS | Welcome to the Dancetech-Thomann store.
Synth/sampler/drumbox, sample-CD's, synth s/w
Midiware, sequencers, home keyboards
Rack effects, pre-amps & processors
Monitors, studio mixers/recorders, h'phones, tape
Dj-kit, Pa-gear, small mixers, speakers & amps
Microphones & accessories
Pc/Mac audio/midi h/w & s/w, storage media
Expansion boards, accessories etc
Piano's & organs
Cases & racks & accessories
Mega-Deals...
Top Sellers...
Blowouts...
New Products...
Similar Products...
Thomann Marimba Thm 4.3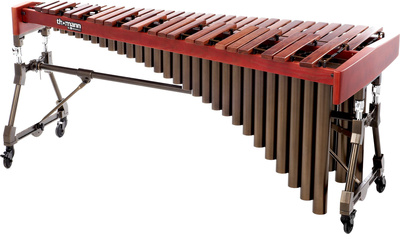 Thomann Marimba Thm 4.3, range: 4 1/3 octaves A2-C7, A = 442 Hz, wooden frame, bars: Swartzia fistuloides, 40mm x 20mm to 60mm x 25mm, adjustable mirrors with integrated load balancing: 840mm - 925mm, width: 570mm - 870mm, length: 1970, incl cover and 1 pair mallets. Made in Europe!
Delivery prices