SECTIONS | Welcome to the Dancetech-Thomann store.
Synth/sampler/drumbox, sample-CD's, synth s/w
Midiware, sequencers, home keyboards
Rack effects, pre-amps & processors
Monitors, studio mixers/recorders, h'phones, tape
Dj-kit, Pa-gear, small mixers, speakers & amps
Microphones & accessories
Pc/Mac audio/midi h/w & s/w, storage media
Expansion boards, accessories etc
Piano's & organs
Cases & racks & accessories
Mega-Deals...
Top Sellers...
Blowouts...
New Products...
Similar Products...
Shure BLX14/P31 H8E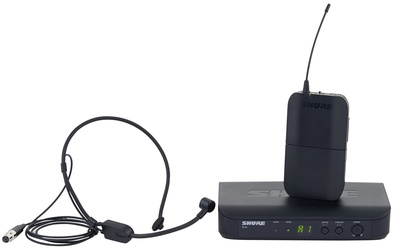 Shure BLX14/P31 H8E, PG Headset Series, UHF Wireless-System with BLX1 pocket transmitter and PGA31 headset microphone, up to 12 Systems parallel, Pilottone, antenna-Diversity, Quick-Scan to find free frequencies, condenser headset PGA31 60 - 20.000 Hz, cardioid, receiver with plastic housing, internal antennas, XLR- and Jack outputs, Audio Status-LEDs, frequencyrange H8E 518 - 542 MHz.
Delivery prices