5kHz (+/-6dB), shelving filter woofer: <300Hz (+/-6dB), frequency response: 38Hz-50kHz, crossover frequency: 2.3kHz, 120dB maximum peak SPL (pair @ 1m), gain: +14dB/-infinite dB, tweeter gain: +/-4dB, analog inputs: XLR/RCA, input impedance: 30k Ohms. Dimensions: 255 x 400 x 320mm. Weight: 12.8kg">
SECTIONS | Welcome to the Dancetech-Thomann store.
Synth/sampler/drumbox, sample-CD's, synth s/w
Midiware, sequencers, home keyboards
Rack effects, pre-amps & processors
Monitors, studio mixers/recorders, h'phones, tape
Dj-kit, Pa-gear, small mixers, speakers & amps
Microphones & accessories
Pc/Mac audio/midi h/w & s/w, storage media
Expansion boards, accessories etc
Piano's & organs
Cases & racks & accessories
Top Sellers...
New Products...
Similar Products...
Adam A8X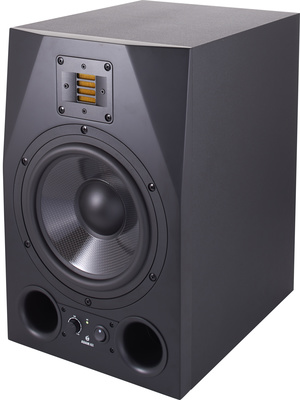 Adam A8X SL, 2-way active bass reflex speaker, 9" carbon/rohacell/glass woofer (150W), X-ART tweeter (50W), shelving filter tweeter: >5kHz (+/-6dB), shelving filter woofer: <300Hz (+/-6dB), frequency response: 38Hz-50kHz, crossover frequency: 2.3kHz, 120dB maximum peak SPL (pair @ 1m), gain: +14dB/-infinite dB, tweeter gain: +/-4dB, analog inputs: XLR/RCA, input impedance: 30k Ohms. Dimensions: 255 x 400 x 320mm. Weight: 12.8kg
Delivery prices