SECTIONS | Welcome to the Dancetech-Thomann store.
Synth/sampler/drumbox, sample-CD's, synth s/w
Midiware, sequencers, home keyboards
Rack effects, pre-amps & processors
Monitors, studio mixers/recorders, h'phones, tape
Dj-kit, Pa-gear, small mixers, speakers & amps
Microphones & accessories
Pc/Mac audio/midi h/w & s/w, storage media
Expansion boards, accessories etc
Piano's & organs
Cases & racks & accessories
Mega-Deals...
Top Sellers...
Blowouts...
New Products...
Similar Products...
the t.akustik Spektrum P816 Absorber B-Stock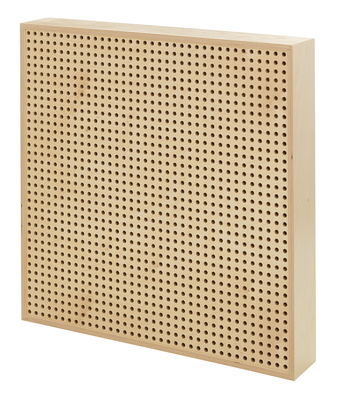 B-Stock, the t.akustik Spektrum P816; perforated mid-range Absorber; Efficiency: 200 - 3000 Hz, center Frequency of 500 Hz; to optimise the acoustic characteristics of Recording Studios, Control Rooms, Home Cinema, Rehear Rooms and Conference Rooms; Material: Exterior Frame made of 12 mm pirch plywood clear lacquered, perforated Front Panel made of 9 mm birch plywood clear lacquered, filled with Mineral Wool; Hole Diameter: 8 mm; Hole Volume: 1296 pc; Hole Distance: 16 mm; perforated Area: 19.6 %; incl. 4 Mounting Clips for Wall fitting (Screws not included); Dimensions: 600 x 600 x 100 mm; Weight: 5,4 kg, B-Stock with full warranty, may have traces of use.
Delivery prices