SECTIONS | Welcome to the Dancetech-Thomann store.
Synth/sampler/drumbox, sample-CD's, synth s/w
Midiware, sequencers, home keyboards
Rack effects, pre-amps & processors
Monitors, studio mixers/recorders, h'phones, tape
Dj-kit, Pa-gear, small mixers, speakers & amps
Microphones & accessories
Pc/Mac audio/midi h/w & s/w, storage media
Expansion boards, accessories etc
Piano's & organs
Cases & racks & accessories
Blowouts...
Similar Products...
JDK Audio R24 Dual Channel 4-Ban B-Stock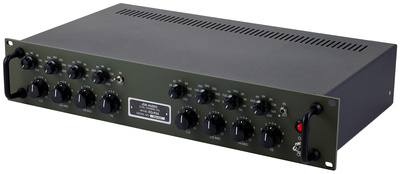 B-Stock, JDK Audio R24 - dual channel, 4-band EQ modelled after the classic API model 562 EQ. Each band offers continuously variable control of frequency and gain using separate knobs, 12dB of boost/cut per band, peak/dipping parametric configuration on all bands, custom transformer balanced output, fully balanced 1/4" and XLR input and output, high headroom +24 dB clip level., B-Stock with full warranty, may have traces of use.
Delivery prices