Forums - Swap-shop!
Subject: 90 Classic Old-School Techno Synth Patterns MIDI
Viewing all 1 messages - View by pages of 10: 1
Lunar Panda
Posts: 2
Link?: Link
File?: No file
90 Classic Old-School Techno Synth Patterns and Modern Melodic Sequences Midi Files (Sample Pack WAV/MIDI)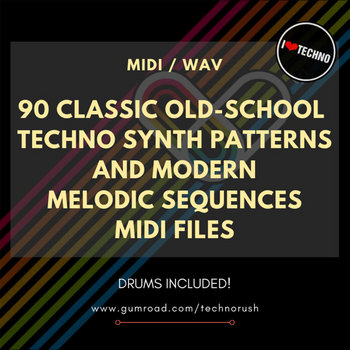 ★★★★★
Description:
Brand new synth loops in different techno directions. Inside you will find x90 wav files + x90 midi files, all sampled, tweaked and manipulated ready to be loaded into any DAW. Inspired by artists including Adam Beyer, Marco Carola, Chris Liebing, UMEK, The Advent the raw retro approach to this sample pack covers all aspects of Techno, Acid Techno & Dark Techno alike. Make truly killer tracks with this sample pack! The package includes 90 ready-made loops in WAV format and 90 midi loops for complete freedom in creativity.
Product Specs:
In detail, the pack contains:
• 90 MIDI Loops
• 90 WAV Loops (Bass, Lead)
• 40 DRUM Loops (The drums from the demo are taken from our Techno Underground (Sample Pack WAV))
• Album Cover + Audio Demo
• Genre: Techno, Dark Techno, Hard Techno, Breakbeat Techno, Jackin Techno, Acid Techno
• BPM: 123
• Loops, WAV format, MIDI format
• 100% Royalty-Free
• Size: 263 Mb
Link:
https://gumroad.com/l/techno-patterns-midi
Demo:
https://youtu.be/0xn-IpYOlJM
Viewing all 1 messages - View by pages of 10:
1
There are 1 total messages for this topic
Reply to Thread
You need to register/login to use the forum.

Click here to Signup or Login !

[you'll be brought right back to this point after signing up]


Back to Forum